Do you wish you could keep all of your photos somewhere other than your computer? PhotoStick and PhotoStick Mobile are portable drives that allow you to store photos.
They both have enormous capacity. However, some distinctions set them apart. You may become puzzled while looking for one. So, what is the difference between PhotoStick and PhotoStick mobile?
PhotoStick is intended for use with a computer, whereas PhotoStick Mobile is designed for a mobile operating system. USB type 2 is used for PhotoSticks, but USB type C is required for PhotoStick Mobile. Both of them erase duplicate files automatically.
You can use these devices to organize your photos. These compact and simple-to-use flash drives simplify and manage the backup process. So, it would be better to know the differences between them.
PhotoStick Vs PhotoStick Mobile: Comparison Chart
We've highlighted the minor variances for your convenience. Look at this overview, but don't forget to double-check the specifics later.
Product
Compatibility
Compatibility
It works on both PCs and mobile devices.
It works on only mobile phones (iOS and Android)
Software
Software
The PhotoStick app
It has a modern software (TPS)
Storage
Storage
32 GB – For 3500 photos and videos, 64GB – For 35000 pictures and videos, 128GB – For 70000 images and videos
8 GB – For 3500 photos and videos, 16 GB – For 3000 photos and videos, 128 GB – For more than 60,000 photos
Hardware
Hardware
USB 2.0
USB type C
Supported Files
Supported Files
Image: JPEG, BMP, TIFF, ICO, PSD, PDD Video: MOV, WMV, AVI
The device can work with JPG, PCT, ICO, MOV, RAW, GIF, WMV, TIFF, PNG, BMP, AVI, and MPEG4 formats to keep backup and secure.
Ease Of Use
Ease Of Use
More user-friendly than others.
Have to go through a lot of steps.
Cost
Cost
$79.99 For 128GB
$120.99 For 128GB
Refund Policy
Refund Policy
60-Day Money-Return Guarantee
30-Day Money-Back Guarantee
PhotoStick Vs PhotoStick Mobile: Difference
Many similarities exist between PhotoStick and PhotoStick Mobile. It's difficult to distinguish between them. However, we've made it simple for you.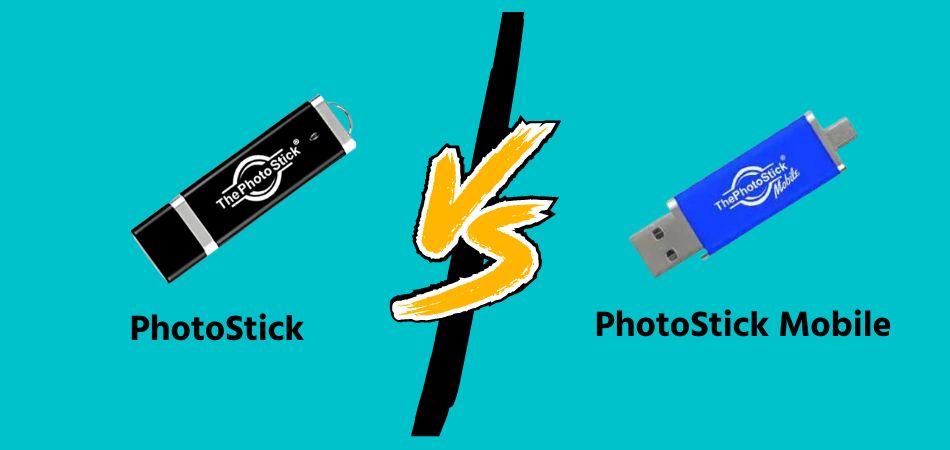 PhotoStick:
The PhotoStick is a gadget that allows you to instantly back up documents, files, videos, and photographs from your computer. As this gadget is self-contained, there is no need to choose, copy, paste, or perform other tasks. It captures and stores data in an automated manner.
PhotoStick Mobile:
The PhotoStick Mobile is a cutting-edge device that makes storing and organizing your files a breeze. This isn't only for photos. It can also be used to store videos, music, and documents. This device only takes one click to perform its work.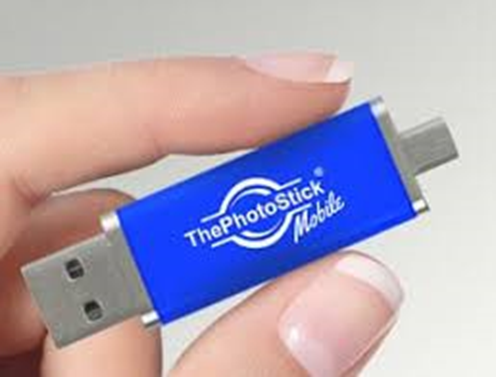 How to Use It?
Both of them have distinct operational procedures. Here's how you can uniquely use them:
PhotoStick
You'll need to use different techniques to use your PhotoStick on multiple devices. Correctly follow guidelines to use it on Android, iOS, or Windows devices.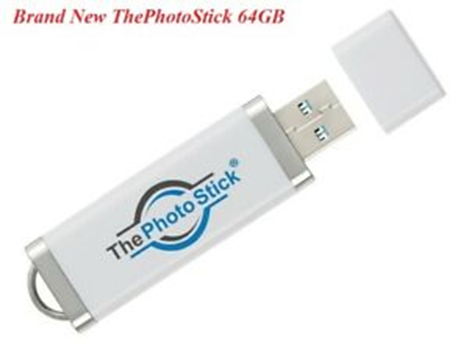 For Windows
Step 01: A USB cable extender is included in every photo stick. Connect your USB flash drive to a computer's USB port.
Step 02: Once you've inserted it, a window will appear to allow the file explorer to start working.
Step 03: If it doesn't work, go to 'My Computer' or 'This PC' and try again.
Step 04: To start 'ThePhotoStick.exe,' open the PhotoStick's folder and double-click it.
Step 05: Start the program once it has been installed.
For MacBooks
Step 01: Place the gadget in the slot
Step 02: On your desktop, a shortcut will appear.
Step 03: If you don't have one, go to 'Finder' and choose the PhotoStick option.
Step 04: To install the app, click on 'ThePhotoStickMac.'
Step 05: It will automatically start the function after it is installed.
For Androids
Step 01: From the Google Play Store, get the PhotoStick app.
Step 02: After you've inserted the smartphone into the slot, open the app.
Step 03: This will give you three alternatives; select 'Backup files now' from the list.
Step 04: Once you've chosen, you'll be prompted to select between 'backup all' and select 'back up.'
Step 05: If you select the 'back up all' option, your media and video files will be backed up.
For iPhones
Step 01: Start your iPhone's app store.
Step 02: Get the PhotoStick iPhone app.
Step 03: Download and install the application
Step 04: By clicking 'Open,' you can start the app.
Step 05: Confirm the prompt for notification
Step 06: Add the PhotoStick mobile into the slot and run the downloaded app.
Step 07: Allow access to your photos and videos by responding to the prompt.
Step 08: A new prompt will appear on the screen, asking you to 'Select to backup.'
Step 09: The backup process for your iPhone begins when you click on it.
Step 10: When the process is finished, the screen will display the completed photos.
PhotoStick Mobile
PhotoStick mobile uses multiple approaches for different devices. For Android and iOS, the procedures are different. Here's how to put it to work on various devices.
For Android
Step 01: Download the PhotoStick mobile app from its official website.
Step 02: Install the app.
Step 03: Plug one end of the drive into your device's charging port.
Step 04: Open and run the program.
Step 05: From the main screen, pick the Backup option.
Step 06: After that, sit back and wait for the photographs to transfer.
Step 07: Once you've finished taking images, just detach the drive
For iOS
Step 01: The device is available for purchase on the official website.
Step 02: Go to the Apple Store and get the photo saver software. The app is available for free.
Step 03: Insert the smaller end of the flash drive into the device's charging port.
Step 04: After that, you must launch your app.
Step 05: Select "Back Up" from the main menu.
Step 06: After that, you'll have to wait while your device searches for movies and photographs.
Step 07: Unplug it when you are finished doing all these.
Benefits & Features
Both PhotoStick and PhotoStick Mobile have their own set of features. Here you can learn more about PhotoStick and PhotoStick Mobile's services.
Features Of PhotoStick
PhotoStick comes with a lot of options, and because of these features, it runs pretty well. We've compiled a list of some of these features for your convenience.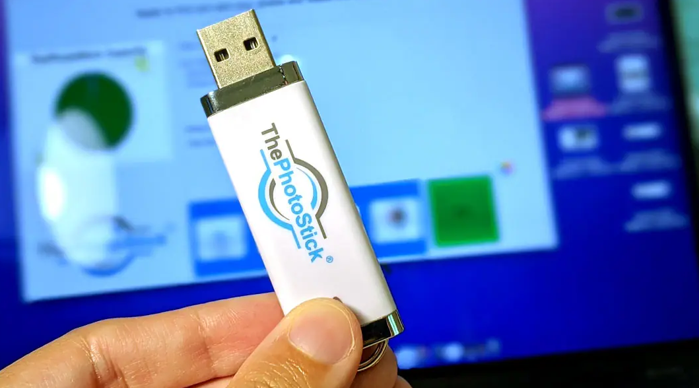 No Duplication: Each file is duplicated using PhotoStick. As a result, there isn't any file tampering. It maintains the quality of your images, locates hidden files, and organizes them for you.
Pre-Programmed: The PhotoStick is an automatic device that has been pre-programmed. While utilizing a PhotoStick, you can do other things on your PC, smartphone, or MacBook. It'll let you know when the backup is finished.
Adaptability: A PhotoStick can be used on a PC, smartphone, or tablet. It also works with iPhones, iPods, and MacBooks.
Variation: PhotoStick comes in a few different sizes based on storage capacity. You can choose between 8 GB and 512 GB of storage. It all depends on what you want to achieve. For personal use, 8GB PhotoStick is ideal. But the higher models are suitable for official purposes.
Suitable Media: This magic stick supports all forms of picture and video files. JPEG, GIF, PNG, BMP, PSD, PDD, MOV, AVI, and WMV are just a handful of the image and video formats supported by PhotoStick.
Cheap: It is a cost-effective storage device. Even if you are on a low budget, you can purchase one. Depending on the amount of storage available, PhotoStick gives various options. The most miniature version (8 GB) is not too expensive.
Benefits of PhotoStick
Compared to other drives, a PhotoStick has certain advantages. Here are some of the distinct ones:
Simple to use – just plug it in and start working.
No subscription plans or cloud storage fees to pay.
Not an expensive product by any stretch of the imagination, especially when compared to the competitors.
Safe storage – protects your photos from power shortages, malware, and other threats.
Manages to find and organize photos automatically.
Finds lost photographs.
Excellent compatibility—works with a wide range of machines.
Most file types are supported.
Find and transfer the majority of video and image files.
Removes duplicates—doesn't bother with copying files across.
Easy to carry.
Features of PhotoStick Mobile
The PhotoStick mobile comes with some great features. Take a look at them to know more details: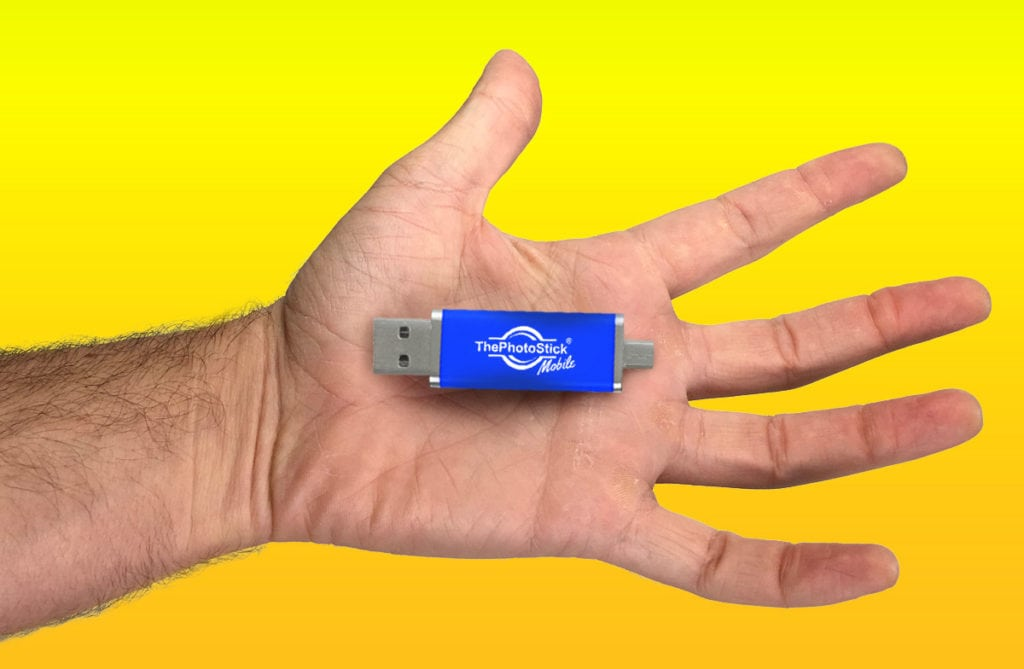 Convenience and Easy Access: This device, unlike iCloud, does not require any software to use. Simply insert the device and press a button, and you're done. Again, no account is needed to use the device.
Compatibility: It is compatible with Android, iPhone, iPad, and iPod Touch: Simply insert the PhotoStick Mobile into your handset to begin!
Multiple File Formats: PhotoStick Mobile supports all image formats. Whether you have.jpg,.png,.gif, or.tif images, the device will back them up and keep them safe. It also can retrieve data from numerous years ago.
Massive Storage: With a storage capacity of up to 128GB, you can effortlessly back up 60,000 photographs and movies!
Benefits of PhotoStick Mobile
PhotoStick Mobile has numerous advantages. Some of them are mentioned below:
Compatible with a wide range of mobile phones and tablets.
Most individuals can afford one because it's reasonably priced.
Simple to set up and operate.
Stores a large number of photos and videos together.
Instantly place files for transfer.
Organize and store your files quickly.
Don't need to be online to use ThePhotoStickMobile.
Doesn't require a subscription.
Protects your files and identity against cyber-attacks.
Storage Capacity
PhotoStick and PhotoStick Mobile offer a variety of drives depending on the storage capacity. Both provide budget-friendly drives. Here's an overview of both of their storage capacities.
PhotoStick
PhotoStick has a lot of storage options. It is less expensive than PhotoStick Mobile. 8 GB, 64 GB, 128 GB, 256 GB, and 512 GB are the available varieties in the market.
PhotoStick Mobile
The PhotoStick mobile devices have an 8 GB hard drive that can hold up to 3,500 photographs. If you choose the 16 GB PhotoStick, you'll be able to store up to 30,000 photos and take them with you everywhere you go. The 128 GB PhotoStick can hold up to 60,000 images.
When purchasing PhotoStick Mobile for your phone, you should consider PhotoStick Mobile mobile storage devices. For example, If your phone has 16GB of memory, select the 16GB or 32GB version.
Software
The importance of software in file/data transfer cannot be overstated. PhotoStick and PhotoStick Mobile use software to transfer files more quickly. Here's a quick rundown of the software they employ.
PhotoStick
To transfer files rapidly, PhotoStick operates the 'The PhotoStick' program. It's a simple app. The PhotoStick app has made photo recovery and scanning more efficient.
PhotoStick Mobile
The software on the PhotoStick Mobile is up to date. To use The PhotoStick on your phone, you must first download and install The PhotoStick program.
You may get The PhotoStick app from the Google Play Store or the Apple App Store. Don't worry; it's completely free!
Use On Multiple Computers?
Isn't it better if you could use one device to connect to several computers? It will help you save a lot of time and money. We'll show you if PhotoStick and PhotoStick Mobile models can be used on various computers.
PhotoStick
The PhotoStick's most fantastic feature is that it organizes, backs up, and stores photos in just a few minutes. It's also cross-platform compatible. Thus you can use it on your computer, iPod Touch, iPhone, iPod, or Android smartphone.
PhotoStick Mobile
PhotoStick Mobile works on devices like iPhones, Android phones, etc. You can't use it for a computer, which is its most significant disadvantage.
Where to Buy?
Computer and mobile accessory stores, as well as internet stores, sell PhotoStick and PhotoStick Mobile. Here are a few specific marketplaces where you can get them.
PhotoStick
There is an official website for PhotoStick. You can make your selection and place your order directly now. Purchasing from the official site is secure. They provide a 30-day money-back guarantee. It's also available in gadget shops.
You can also buy PhotoSticks on Amazon, BestBuy, and Walmart. However, we urge that you purchase from the official website as they're more dependable.
PhotoStick Mobile
You can find PhotoStick Mobile on the platforms where PhotoSticks are available. That's because it is also one kind of PhotoStick.
Final Verdict: PhotoStick Vs PhotoStick Mobile: Which One is Better?
After extensive research, it is clear that PhotoStick is the superior choice because it can be used on both a computer and a mobile device.
You're unlikely to find a more convenient and straightforward photo storage solution. Especially one that finds the photos for you rather than having you search for them yourself. It doesn't necessitate an internet service or a software download. It is also cost-effective and offers ample storage for storing images, videos, etc.
However, you can go for PhotoStick Mobile if you don't own a personal computer. PhotoStick mobile is easy to carry and most suitable for the handset.
Conclusion
PhotoStick and PhotoStick Mobile are fantastic options to store and retrieve your images, videos, and other media files. They are essentially USB flash drives that instantly back up with a single click from any device.
We discussed the differences between PhotoStick and PhotoStick Mobile. Even though both of these devices are nearly identical, one is suitable for mobile devices, while the other is suitable for both mobile and computers. You can select one of them based on your requirements. Good luck with your choice!